When you're in the mood, there's really nothing better than a big drive. Time to catch up on podcasts, maybe make the odd phone call, and obviously show everyone else on the M1 how to use a motorway properly. Even if the route isn't especially scenic, there can be something immensely satisfying about just you, the vehicle, and nothing more to concentrate on than a couple of hundred miles.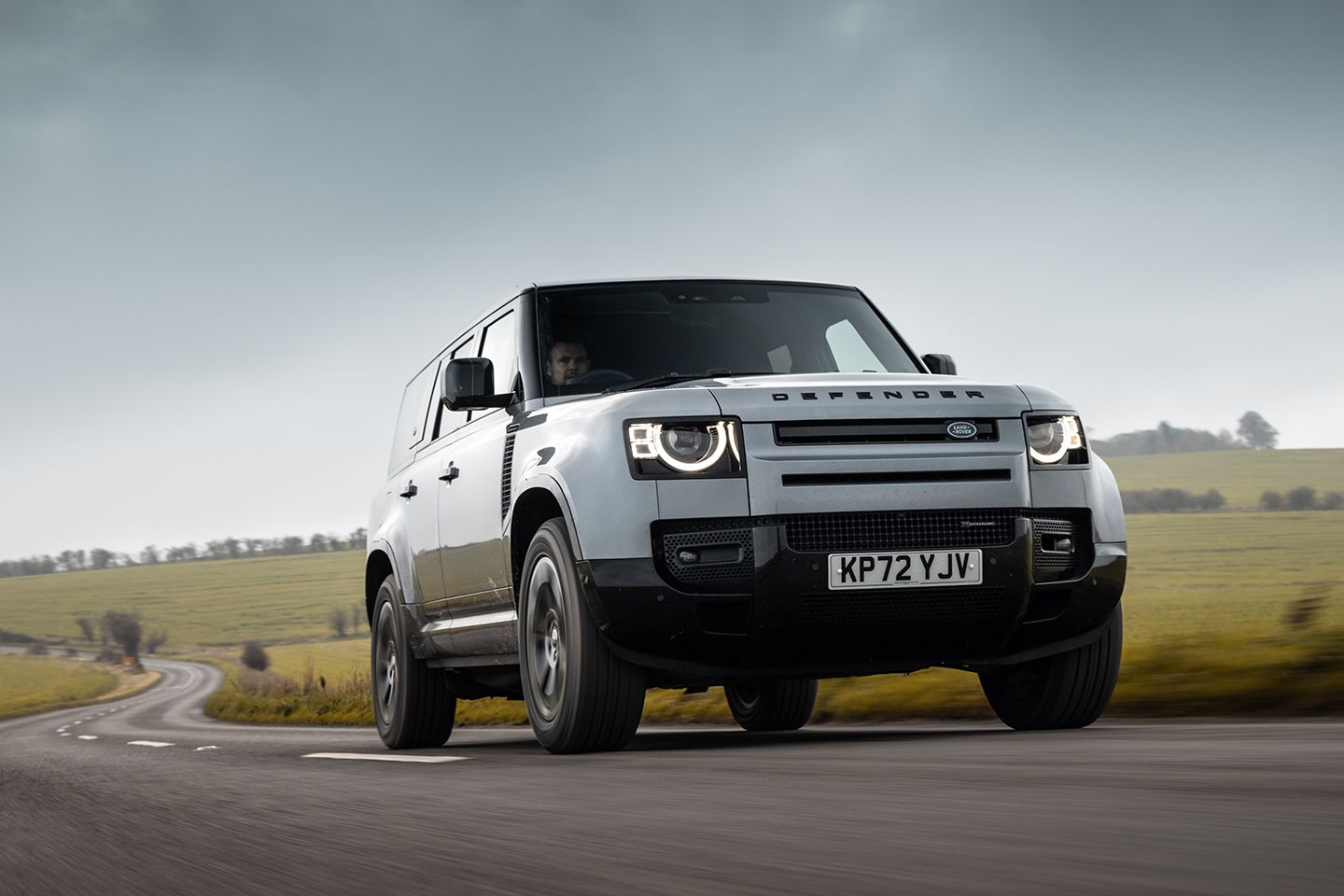 Of course, the alternate scenario is a miserable Monday night after a tiring weekend, when the prospect of 239 miles to bed and only a KFC to look forward to about halfway in isn't an appealing one. The kind of situation when anything but four hours behind the wheel sounds a better option. And you know what? In its own inimitable way, the Defender 130 made it a joy. And the 239 miles back the next morning, too.
For all we like to poke fun at SUVs only being popular for elevated driving positions, there is something to be said for clambering into a Defender, peering out over that vast bonnet and looking around a perfectly judged interior. It feels both luxurious and tough, with just enough concessions to make it feel Defendery – the bolt details, chunky buttons, the fonts – and sufficient sense of occasion for a car that's more than £85k as tested. The seat is immense, too. You're happy to drive a long way because it means not leaving this environment and confronting the grim world outside. It seems a shame that it wasn't possible to test the Defender with more occupants, because it's obviously an enormous cabin as well. There's still 290 litres with all eight seats in place, though it's a high space rather than a long one. Still enough to squish some bags in, at least. Inevitably the last row doesn't feel quite as first class as the first two, either, so best hold out for the Defender Minibus if you need that.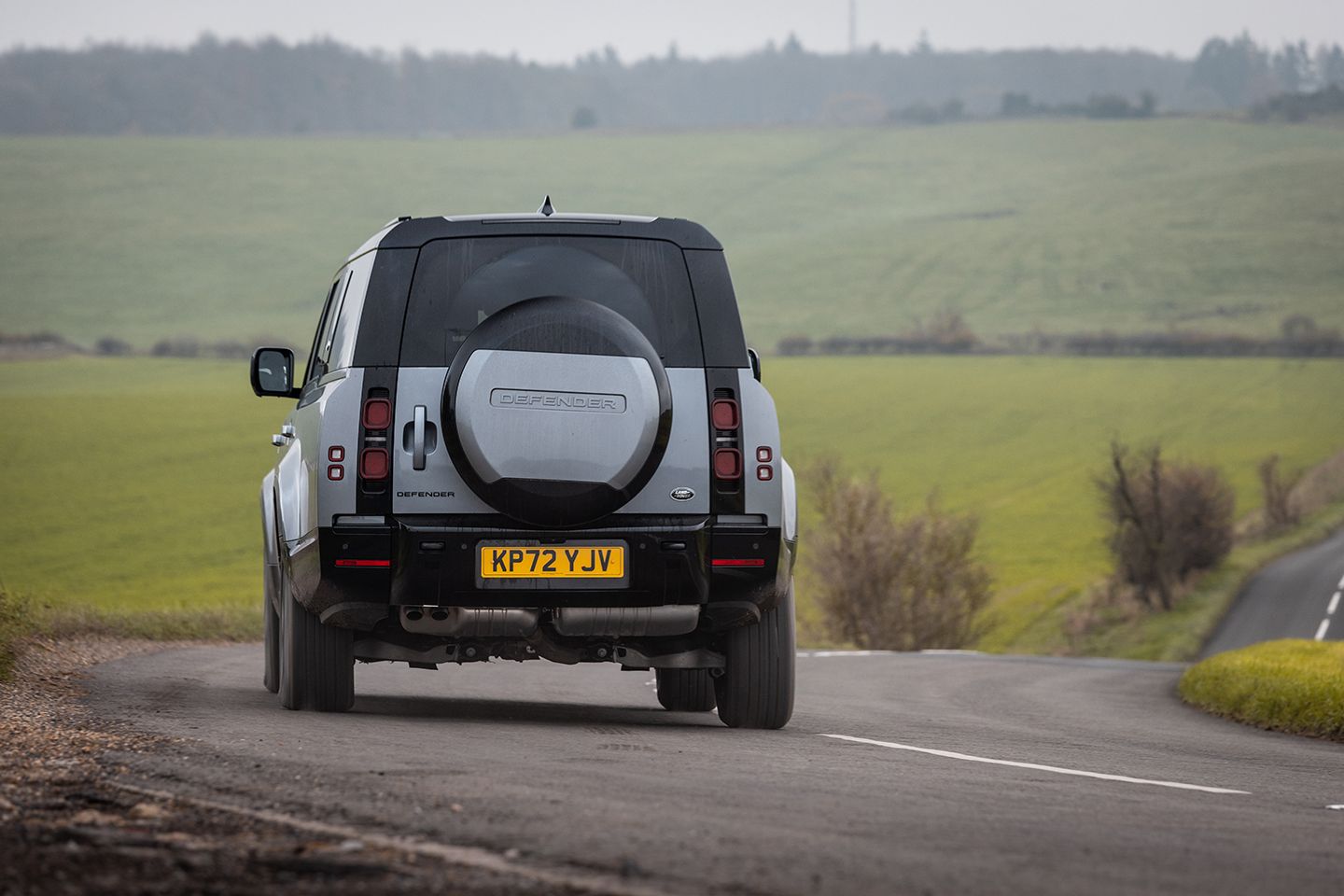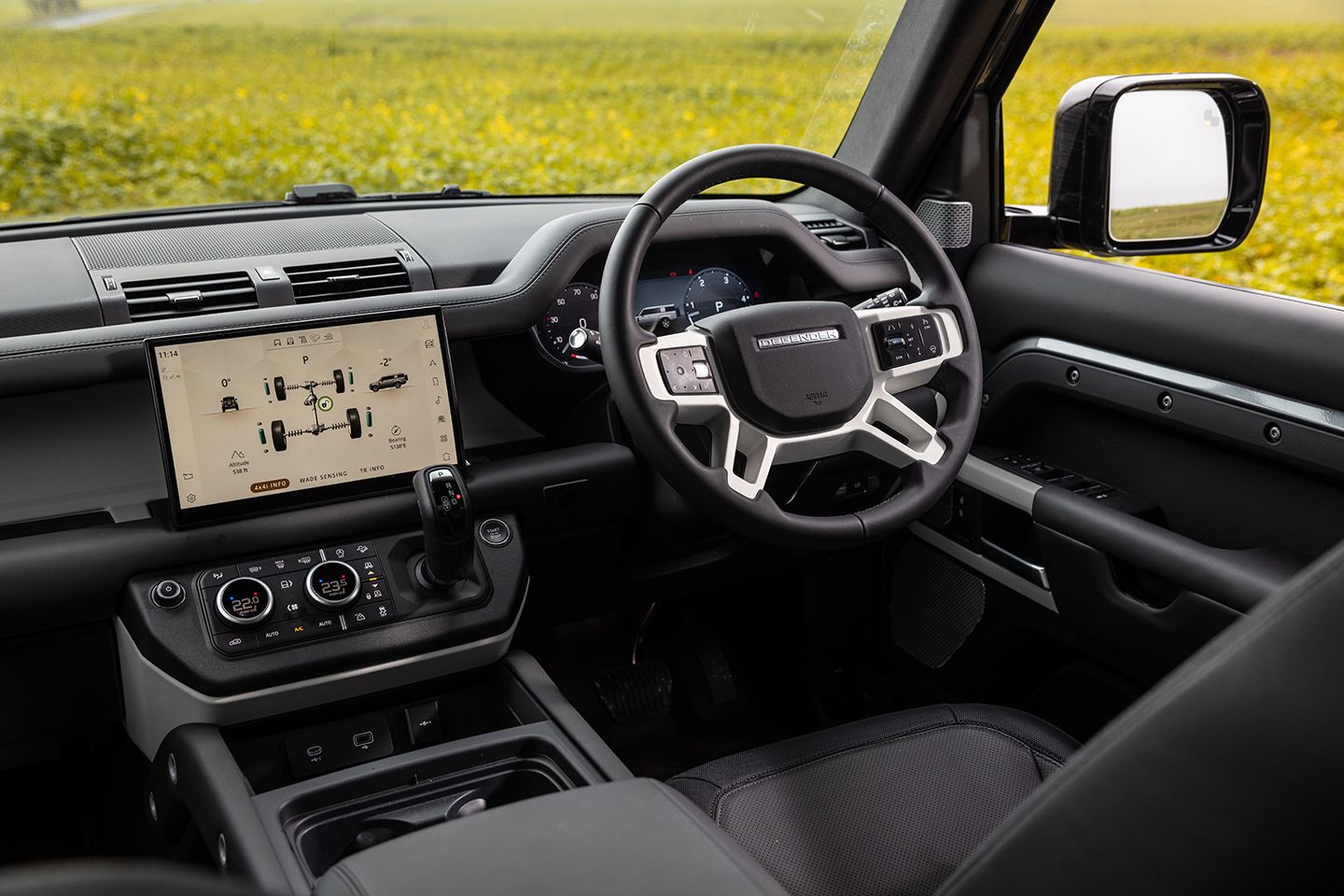 This X-Dynamic Defender 130 is powered by the D300 mild hybrid diesel, and it's hard to think of a better matched powertrain for the task at hand. It's smooth, punchy and refined, with an eight-speed auto sharp enough to kickdown at a moment's notice for an overtake but also keen to get into top and maintain a serene, 30mpg-plus cruise. There isn't the performance here of the more powerful Range Rover models, though 479lb ft never leaves the Defender wanting in the cut and thrust (and unbelievable stupidity) of motorway driving. Whether that would be quite the same with all eight seats occupied, or even just a few more of them, remains to be seen. Probably wouldn't want much less than this, given it's 2,589kg without a single soul on board, let alone a driver and a netball team.
Just one up and with nothing but CarPlay for company (playing out of an immense Meridian stereo), the Defender is an unexpectedly superb cruiser. There's some wind noise, sure – there had to be with this silhouette. But it's muffled, really, never a distraction from your job as commander, guiding this vast craft along, safe in the knowledge that whatever task is thrown the car's way it'll be more than capable of dealing with it. The additional length seemingly makes no difference to the fine motorway manners (this shares a wheelbase with a 110), though perhaps it is a tad stiffer to deal with the additional weight. It's calm, composed, and supremely relaxing.
This XXL version – 5,376mm long with a 20-inch wheel on the back! – definitely still drives like a Defender, which is to say very well indeed. You would know no difference from behind the wheel against a 110 (a 90 would surely feel a bit spritelier), with the same accuracy, control and predictability of every new Defender. It'll roll and it'll lean, of course, but never lurch or pitch uncontrollably or messily. The steering has the same consistency and cohesion of any JLR car, meaning it's easy (and satisfying) to place something so enormous. Even the pedals offer some proper resistance. Before long you're conserving as much momentum as possible to scurry across roundabouts, marvelling at how all-of-a-piece this four-wheeled Uluru feels. It's only as the front end is asked too much of and the assists grab it that boots are cooled. The Defender is a mightily impressive cornerer, in its way.
" alt="" />
" alt="" />
There was only opportunity to splash around a few puddles in this test, rather than test the 130's credentials properly. Of course, it shrugged off just about the lamest off-road test possible without even noticing. According to the stats, this can get where almost everywhere an air suspended 110 can, with the same approach angle (37.5 degrees with the air suspension set at off road height) and ramp breakover angle, at 27.8 degrees with the car again at off-road height. Inevitably that rear overhang does impinge on departure angle, at 28.5 degrees against 40 – there had to be a compromise for the commodiousness somewhere. This is still going to get to places no other car will. And that's a really satisfying way to travel, the myth of invincibility every SUV strives to achieve made real. Surrounded by technology and luxury, though not quite enough to just feel like another Range Rover, confident in the knowledge that any challenge coming your way is surmountable. Even if it's just another person who won't keep left.
Over time, moreover, the 130's initially odd proportions make some sense. Arguably the 110 remains the best bit of Defender design (with apologies to 90 Hard Top fans), but the Defender is nowhere near as ungainly as it first seems after a few days. It looks massive and it also looks good. The entire range does, in fact – there can't be many other cars out there that can suit so many bodystyles.
Therefore, it can't be anything but an unequivocally positive verdict for the Defender 130. The same criticisms levelled at the other models still apply here – it's more expensive and heavier than ever – so it isn't the model to convince the detractors. But in bringing together the quality and desirability of the 90 and 110 with yet more space, the 130 does make a very convincing case for itself. It feels a logical addition to the range, rather than just being there because Land Rover could do it, because there's so little penalty to pay for the practicality benefits. There surely won't be many out there with the need to regularly carry seven, even if it would be a mighty family car. However a buyer justifies a Defender 130, though, there's no doubt that they'll be hugely impressed. As long as it fits on the drive, of course.
SPECIFICATION | LAND ROVER DEFENDER 130 D300
Engine: 2,997cc, mild hybrid, straight six diesel
Transmission: 8-speed automatic, all-wheel drive
Power (hp): 300@4,000rpm
Torque (lb ft): 479@1,500-2,500rpm
0-62mph: 7.5 secs
Top speed: 119mph
Weight: 2,589kg (DIN)
MPG: 31.6
CO2: 234g/km
Price: £81,365 ('base cost'; price as tested £86,785 comprised of registration fee for £55, VED for £2,015, Eiger Grey paint for £895, 20-inch 'Style 6011' wheels in Gloss Black for £525, Gloss Black Signature Graphic (with interior storage) for £155, Extended Black Exterior Pack for £975, Wi-Fi enabled with data plan for £460, Secure Tracker Pro for £340)